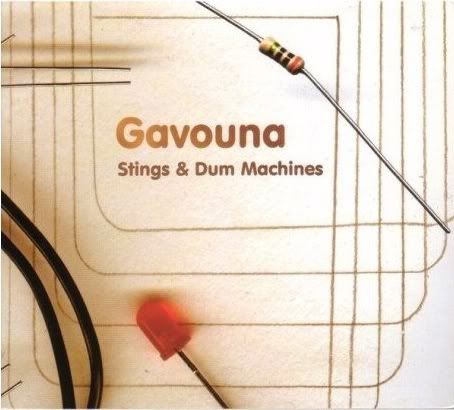 Download
I really feel like more people should be aware of this fine album, and Gavouna in general. It's a fantastic record and if you like it please go out and support the artist.
Gavouna is the alias of Athens-born, London based Athanasios Argianas, who studied under a pupil of Xenakis and Berio. Here he gives us his utterly charming (if r-phobically titled) Stings & Dum Machines. While short at 37 minutes, the ten instrumentals on Argianas's debut enter with sinuous melodies and timbral arrangements of strings, electronics, mallet percussion, and, yes, drum machines. The album's distinctive sound is attributable to Argianas's rather retrograde sound sources (i.e., antiquated electronics) and, as a result, Gavouna's music sounds 'hand-made,' even if that's not literally the case.
What makes the album most captivating, however, is not just its unusual sound but the caliber of its compositions. The orchestral folk swing of "Three" is a prime example. Featuring animated vibes melodies and Konrad Köhler's multi-layered strings, the unusual yet engaging piece captures some flavour of Argianas's Athens, Greek heritage. A similar impression emerges in "One Four" when strings (violins, cellos) and horns (trumpets) etch dreamy Eastern melodies. In the emotionally arresting "Leo & Lydia," the deep bowings of an aching cello introduce a veritable orchestra of see-sawing strings, with the composition further distinguished by a mournful warble that pierces the song's electronic haze. Similar theremin-like electronics dominate the becalmed setting "Ondespiece," while a lush string- and horn-centered arrangement in the melancholy "Lament" (based on Isan's "Kittenplan A") makes for a memorable outro. Given its almost cinematic aura, one could easily hear Stings and Dum Machines as the regrettably lost soundtrack to a 1970s Greek film.